ORSOMARSO - CALABRIA- SOUTH ITALY
Excursions
Archeologic Site Laos
South Italian Agriturismo
AGRITURISMO LA CASA NELLA PRATERIA
ROOMS & ACCOMMODATIONS OFFERS
- OR CALL ME PAOLA +39 349 733 2040 - EMAIL DIRECT: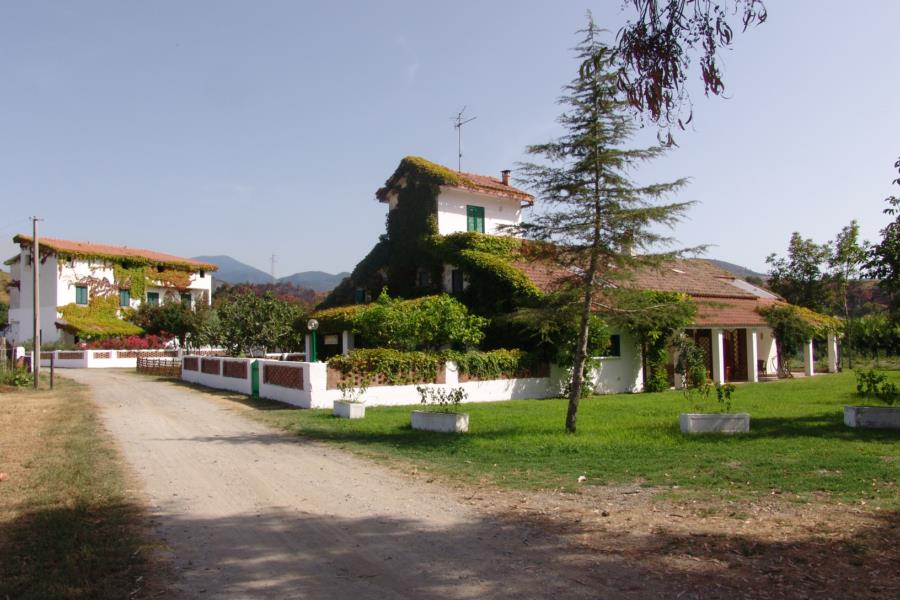 The Country House - Welcome!
Immersed in the green of nature in Orsomarso Marina in Calabria, I look forward to welcoming you to "La Casa nella Prateria" and to a relaxing holiday between walnut trees and olive trees, just a few steps from the beautiful River Lao in Scalea, five minutes from the crystal blue Mediterranean Sea and ZERO Kms from natural ingredients, to savour the Calabrian cuisine with the traditional flavours of Southern Italy.
Relax on the verge of Fun
Here, you will find total relaxation and tranquillity with activities and entertainment just around the corner. For those who want to visit the local area, you will find the beautiful crystal blue Mediterranean Sea at only 5 minutes by car, with beaches and lidos; in Scalea, Diamante, Praia a Mare, Maratea you can enjoy the rugged coastline with caves and grottos to visit, as well as the stunning Island of Dino to discover in Praia a Mare. If you like shopping you can visit Scalea, Praia a Mare or the highstreet of Marcellina in Santa Maria del Cedro with nice particular little shops and special offers.
Your holiday at the Country House

Ideal for family holidays or romantic couple's weekends, you will find self-catering apartments that can accommodate up to 6 people. Each self-contained apartment, with a kitchenette and a small dining room, bathroom with shower and bath, spectacular views of the greenery surrounding the property ... all to ensure a holiday in complete relaxation and freedom. We will provide linens (bed, bath and kitchen) on arrival, changed weekly if you stay with us for holidays of 7 days or longer. We welcome requests for ground floor apartments, should you need it, and please ask about availability before confirming your booking.
| | |
| --- | --- |
| ACCOMMODATION: | TWIN ROOMS - DOUBLE ROOMS - TRIPLE ROOM - APARTMENT 4+2 |
| BOOKINGS ACCEPTED: | WEEKLY & NIGHTLY |
| START DAY WEEKLY: | SATURDAY |
The Country House
Nature will give you your first welcome to the Country House, as you drive through the natural alley of Walnuts and Eucaliptus, only to arrive to the typically southern Italian Olden style Country House surrounded by green and peaceful tranquillity only few minutes away from the town centres, sandy and stony beaches, sightseeing areas, sea promenades and fantastic mountain views…

This is a great place to escape to if you wish to get away from the city traffic and the busy life of everyday…
...bring your favourite books and enjoy reading on a bench under a eucaliptus tree, while you're sun bathing or sipping on your glass of red or white wine perhaps produced in one of the nearby family-private or DOC vineyards… taste the passion of Southern Italian flavours as you bite into homemade cheese or as you savour the traditional food of the typical local cuisine made with ingredients cultivated nearby.
Your Days at Ours
If you are in the area, driving by, and you would like to spend the day with us, you will find over 1200sqm of land surrounding the Country House giving it a touch of spring, throughout the year, with a picnic area with barbecue and drinking water for a wonderful day of relaxation and outdoor fun with family and friends throughout the year and especially in special occasions such as Easter, Easter Monday, Assumption or just for your Sunday with the Family.
The Typical Cuisine - Food & beverage
Come spend your summer holiday or weekend at our Country House "La Casa nella Prateria" and enjoy the excellent cuisine proposed with Calabrian ingredients, cultivated at 0kms away, just round the corner from us, and prepared with the traditional flavours of Southern Italy. I'm sure we will have a wine tasting event or a Special Tasting Menu for you to savour our typical flavours cooked as tradition taught us.
Area Info
To have a fair impression and enjoy the Nature, History & Attractions of the nearby area, the suggestion is to allow a 2 weeks holiday and plan approx 10 x 1/2 day visiting events to spots around a 90 km radius.
Rooked Town Villages, Rivers, Mountains up to 2000mtrs, Walks, Historical Sites & Figures, Tourist Attractions… this and much more you can visit and discover in the nearby areas.
Diamante is well known for its murals, artistic paintings covering buildings and houses of the historical town centre, and also for its Peperoncino Festival, a feast celebrating the chilli peppers that falls in September. Resembling the towns of the Amalfi Coast, Diamante is populated of typical alley ways with a shop on each corner and a variety of piazzas and bars to chill and relax. Driving up the hill towards the little mountain town of Buonvicino, you will enter the splendid world of nature, panoramas and views that introduce a bit of the Italian culture and history, so be sure to have a camera handy.
Distance from Diamante town centre approx 15 km
Distance from Amalfi approx 200 km
Distance from Sicily approx 230 km
Accommodation
Twin Rooms with 2 Single beds
Double Rooms with King Size beds
Double +1 Rooms with King Size beds
Our accommodations are self-catering apartments that can accommodate up to 6 people. So you can choose to rent the apartment as a whole for a family holiday, or just the twin/double or triple room for smaller parties.

Each self-contained apartment, has independent entrance, with its small dining room and kitchenette, bathroom with shower and bathtub, spectacular views of the greenery surrounding the property ... all to ensure a holiday in complete relaxation and freedom.

We will provide linen (bed, bath and kitchen) on arrival, changed weekly if you stay with us for holidays of 7 days or longer. We welcome requests for ground floor apartments, should you need it, and please ask about availability before confirming your booking.
Why not check availability straight away, and proceed to booking now or later, directly online, by simply clicking the button below:

Facilities
The Country House has 24hr concierge with bell ringing.
The restaurant is available on booking in inside dining area or on outside porch.
Party facilities are available on request up to 50 people in inside dining area or bigger parties in outside gardens depending on season.
Activities
Our "internal" activities are mainly "outdoors". A Scenery for relaxation in the tranquillity of nature as you can go for a peaceful walk with your book or on a discovery tour of the gardens as you are walking with the kids or walking with your pets.
It's a great mind set for meeting new people in the countryside only a couple of minutes away from the beach, you may meet fellow holiday makers, or friendly people as the locals are…
A few minutes' drive and you could be snorkelling, scuba diving or even just swimming in the crystal blue sea of Calabria…
Get ready to explore the southern Italian way of life that also includes a chilled game of cards at the bar with the locals, as the world goes by.
Visit the local markets, go for nature walks - just look around you and you will find a new undiscovered spot that you may want to walk to. Go for beach walks and enjoy the sunset and the fresh breeze that brings in the aroma of the Mediterranean sea.
A couple of minutes' drive to the seaside bars and restaurants, go out for a pizza or to live music venues for a night out or prepare for a long night clubbing with a cocktail or two!!
Excursions, Visits and Sports
We will be happy to suggest a variety of excursions and places to visit if you would like to discover the area.
If you prefer an Itinerary Plan we'll be happy to personalise one to your likings and get you all ready for your Southern Italy exploration with a backpack or even with an online suggestion of where to eat and drink.
For those of you who would like to go on sports activities and why not adventures in the nature of Calabria, we endure to offer various sports activities and/or of interest, such as trekking, quad or horseback riding, river rafting on the Argentino River, or climbing the canyons of the Pollino National Park, all accessible in a short time and in collaboration with our friends' specialized centres.
Services Availability
washing machine, ironing, hair drier, final cleaning, food to take away, packed lunch, itinerary planning, car, moped and bike rental booking, sporting and recreational events booking
Parking
Off-road, unattended.
Arrival Departure - Check-in/Check-out
Arrival: Between 14:00 & 23:00 hrs
Departure: Before 10:30 hrs
Pets
Small pets are allowed. Free of charge
Local Payments Accepted
We accept cash payments.

Prices
Our prices vary depending on whether you would like to stay with us just a few nights or weekly.
These are the starting prices:
Per night - € 29/room for 2 people
Weekly - € 200 for 2 people, or € 400 up to 3/4 people
For further information and reservations you can call me Paola on +39 349 7332040 (italian mobile) or send an e-mail to paola@intertourtravel.com
However you will find exact pricing for the party you specify by checking the availability online from the button below.

You can also BOOK DIRECTLY ONLINE by clicking the button below…
Looking forward to Meeting you!
I am Paola, and together with Mino, We look forward to giving you a proper Southern Italian warm welcoming, with the positive feeling that a family run accommodation can give, to create new friendships that can last for years with such beautiful people, in an environment of relaxation, nature and leisure for children, with everything that Calabria has to offer between sea and mountains, nature and culture, history and art, tradition and flavours.